---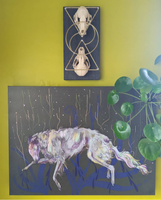 Show  of Hands special! Get the look of a painting without the cost. These high quality canvas prints are light, sturdy, and come ready to hang with hardware on a flat back. Black edges around canvas.
Looking for a great gift? Don't know anything about printing digital art? this listing is for printing either previously commissioned or concurrently purchased digital portraits.  Any purchase of this listing without a portrait bought now or previously will be refunded and cancelled. If you are looking to print a previous portrait please specify the portrait at checkout. 
Looking for a size or print that isn't listed? Have you already bought a portrait and aren't sure what size will work for you? Shoot me at email at julie@longdogdandy.com and I can get you a quote. 
Color may vary slightly from monitor to print. Printing previous commissions may have size constraints or be changed slightly to fit desired aspect ratio.
 Weird Digital portrait listing here
Less Weird Digital portrait listing here